Sig Sauer P365xl Spectre comp
$999.99
Specifications
Caliber: 9 mm
Magazines Included: Two 12-round steel magazines,
Sights: X-RAY3 day/night sights
Overall Length: 6.6 inches
Overall Width: 1.1 inches
Height: 4.8 inches
Barrel Length: 3.1 inches
Weight: 20.7 ounces
Sight Radius: 5.6 inches
Accessory Rail: SIG Rail
Trigger Action: Striker
Trigger Type: XSeries straight / XSeries flat TiN/gold
Grip Module: LXG laser-engraved
Grip Type: XSeries P365
Grip Color: Black
Barrel Material: Carbon steel / carbon steel w/ TiN/gold finish
Frame Material: Stainless steel
Slide Finish: Distressed / Nitron DLC
Slide Material: Stainless steel
Description
Sig Sauer P365xl Spectre comp for sale online
Sig Sauer P365xl Spectre comp America's best-selling micro-compact handgun, boasts a redesigned Custom Works-designed slide with an integrated compensator that lowers felt recoil and muzzle flip by up to 30%.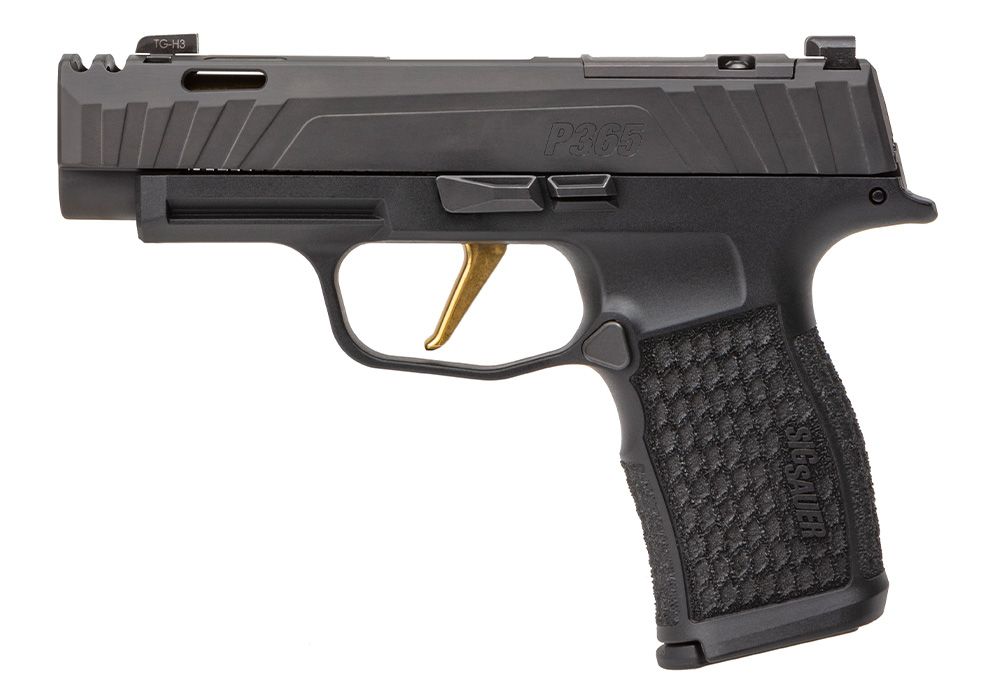 The Spectre family of handguns has evolved into the Sig Custom Works polymer lineup's apex of feature-rich performance. These exceptional firearms are as functional as they are attractive because to their unique laser-stippled grip modules, Titanium Nitride gold barrels and triggers, and specially designed slides. Each
pistol
in the Spectre line is equipped out of the box with flat XSeries triggers, XRay3 day/night sights, and optic readiness. Sig Sauer
P365xl Spectre comp
Custom Works coin, a certified custom certificate, and two magazines are also included as standard equipment with each model.